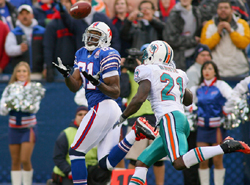 On Friday morning, we reported that two teams are interested in receiver Terrell Owens.
Later in the day, Geoff Hobson of Bengals.com reported that one of them is the Bengals.
In a Friday night appearance with Bryan McGovern and Gil Brandt of Sirius NFL Radio, agent Drew Rosenhaus confirmed that the Bengals are interested in Owens.
"Right now I would say that everyone knows that the Cincinnati Bengals have expressed some interest in Terrell and they have spoken with him and myself," Rosenhaus said. "Where we go from here I'm not sure but I think it's at least a positive dialogue. And we represent another great receiver on Cincinnati in Chad Ochocinco who would love to have number 81 as his teammate. And we'll just see how that plays out. But certainly that's something that is a possibility. I guess that's about the most I can say right now."
For now, it could be that the Bengals are the only team interested in Owens. Though we don't know the second of the two teams that were interested as of Friday morning, we assume that the Ravens expressed interest in T.O. in the event they swung and missed on Anquan Boldin and Kevin Walter. Now that Boldin is in Baltimore, T.O. probably has fallen off their radar screen.