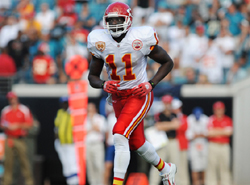 Veteran wideout Chris Chambers was cut by the Chargers during the 2009 season. The Chiefs claimed him via waivers, and Chambers finished with a flourish, catching 36 passes for 608 yards in nine games.
Coincidentally (or not), he's now an unrestricted free agent.
A league source tells us that the Chiefs are negotiating with him about sticking around.
Though the Chiefs have been quiet this offseason, signing to date low-level talent (Tyler-Freaking-Palko), re-signing linebacker Mike Vrabel, and emerging from trade talks with the Cardinals without receiver Anquan Boldin, there's a growing feeling in league circles that the Chiefs could be a surprise team in 2010.
Indeed, the turnover rate for the postseason is roughly 50 percent. With Charlie Weis at offensive coordinator and Romeo Crennel at defensive coordinator, things could get interesting in the AFC West — and the Chiefs could be one of the non-playoff teams from 2009 to crash the party in 2010.