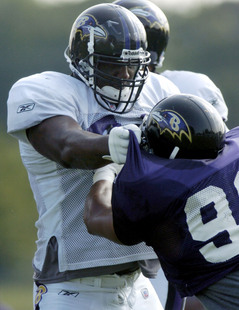 There's a rumor making the rounds that the San Francisco 49ers could make a run at Ravens left tackle Jared Gaither, a restricted free agent.
The fifth-round pick in the 2006 supplemental draft carries a first-round tender, making him available to sign to an offer sheet.  If the Ravens don't match the offer, they would be entitled to his new team's first-round draft pick.
Per multiple league sources, the Niners are not yet pursuing Gaither. 
If/when someone does, there are indications that the Ravens would not match the offer, opting instead to pocket the extra first-round draft pick.
Jamison Hensley of the Baltimore Sun identifies four teams that could be interested in Gaither (not that are interested, but that could be) as the Niners, Seahawks, Cowboys, and Colts.
If he goes, 2009 first-rounder Michael Oher would slide over to the left side, the side that we refuse to describe as the blind side when referring to Oher.