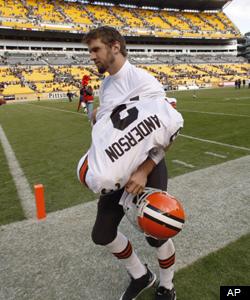 Former Browns quarterback Derek Anderson, cut on Tuesday by the team, ripped Cleveland fans via an e-mail sent to Jeff Schudel of the News-Herald.
"The fans are ruthless and don't deserve a winner," Anderson said.  "I will never forget getting cheered when I was injured.  I know at times I wasn't great. I hope and pray I'm playing when my team comes to town and [we] roll them."
Anderson also said that, after the 2009 season ended, he heard from no one with the organization until learning that he had been cut.
The cheering incident to which Anderson refers occurred in November 2008, when fans reacted happily to the fact that Anderson was on the ground, writhing in pain.  As it turned out, he had torn a knee ligament.
The team's quarterback quandary traces to the 2007 season.  Rookie Brady Quinn held out in a contract dispute, making Anderson the backup to Charlie Frye in Week One.  Frye was benched during the 34-7 loss to the Steelers, and he was traded to Seattle a couple of days later.  Anderson took the reins. 
It was presumed that Anderson was merely holding the spot until Quinn was ready, which of course meant that Anderson experienced no pressure.  Which allowed him to hold the ball a little more loosely and play well.  Until the playoffs were on the line and the pressure caused him not to play well.
After the season, the Browns badly misread the situation, re-signing Anderson and making him the starter.  Inevitably, he held the ball tighter and looked over his shoulder and ultimately was benched.  After Quinn was injured, Anderson returned, only to suffer the knee injury that prompted fans to applaud.
So Phil Savage/Romeo Crennel regime made a huge mess in 2008.  Finally, someone is trying to clean it up in a decisive way.
This time around, we can't fault Browns fans for cheering.