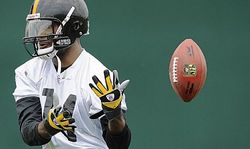 There's a rampant rumor making the rounds that the Pittsburgh Steelers are in the process of trading receiver Limas Sweed to the Atlanta Falcons.
Per a league source, the rumor is not true.
Though it's entirely possible that the Steelers are willing to declare Sweed a bust and move him on to a team with an affinity for pass-catchers who can't consistently catch passes (Jacksonville, anyone?), the Falcons won't be the destination.
Look for Atlanta to stand pat with their current depth chart at wideout, barring a setback in the rehab of Harry Douglas (torn ACL) or the sudden inability of one or more of them to, you know, catch passes.