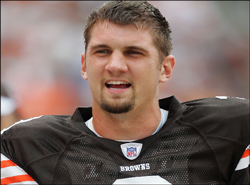 First, the news. Derek Anderson already has two visits on his agenda: Thursday with the Seahawks and Friday with the Cardinals, according to ESPN's James Walker.
Anderson may be a fallback plan in Seattle to getting one of the Eagles quarterbacks.
Now, the silly stuff.  Anderson has quickly apologized to Browns fans for saying they are ruthless, they don't deserve a winner, and they caused Ernest Byner to fumble.  (We made up that last part.)
"I said some things . . . earlier that I regret," Anderson said in a statement.  "Those of you who got to know me
personally from covering the Browns over the past five years, know this
was out of character for me. I wasn't taken out of context, but I was
speaking out of my frustration after my career with the Browns came to a
close.
"I had some great times playing in Cleveland, especially during the
2007 season and I met some great people and made many lifelong friends
along the way. I'm looking forward to starting a new chapter in my
life."
Our Anderson Translator says: "The Browns fans are ruthless, they don't deserve a winner, I hate Eric Mangini, but I wish I didn't say anything to a reporter."