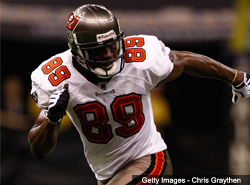 The Bengals reportedly have signed a new receiver. 
And that receiver is not Terrell Owens.
According to JOCKlife.com, a web site that shares an office with the agent of receiver Antonio Bryant, the veteran wideout has signed what is believed to be a four-year deal with the Bengals.
Per JOCKlife.com, terms of the deal were not disclosed.
The move apparently means that Terrell Owens will not be joining the Bengals.
Unless, of course, the Bengals decide that it's time to part ways with the player who lobbied so heavily for T.O. to be added to the team.