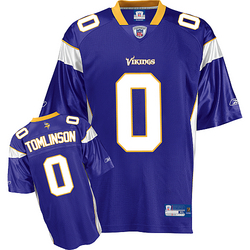 From time to time, the folks responsible for selling NFL-related apparel put the cart ahead of the horse.
Or maybe they know more than the rest of us.
Either way, NFLShop.com currently is selling Vikings' jerseys bearing LaDainian Tomlinson's last name on the back.  (And, no, he wouldn't be wearing "0" in Minnesota; his number would be determined later — most likely after Asher Allen gives up No. 21.)
No similar product is being offered in Jets colors.
It most likely means nothing.  But it gives us something to write about while we wait for Tomlinson to decide his next move.
(And thanks to the reader who pointed this out to us.)