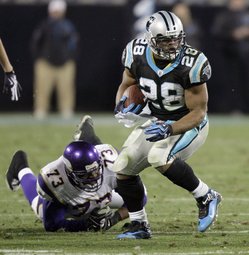 Seven years ago, Jimmy Kennedy was a supposedly can't-miss defensive tackle prospect who slid to No. 12 on draft day and who thereafter became, for the most part, a bust.
He eventually started 16 games in St. Louis, during his final season there. In three seasons since then, he has started once.
Now, Kennedy wants a full-time starting gig — and he's looking for just that with the Bills, according to Mark Gaughn of the Buffalo News.
"Of course," Kennedy said of his desire to climb to the top of the depth chart. "That's basically asking me, am I
satisfied with my career. I'm trying to go out there and get better. Am I satisfied with what
I did last year? No. . . . I'm thinking it's just a start."
Last year, in his first full season with the Vikings, he was a more-than-competent backup. But starting isn't an option in Minnesota, giving the presence of Pat and Kevin Williams.
With the Bills contemplating a move to the 3-4 defense, it's unclear whether the 6'5″, 320-pound Kennedy would man the nose or slide to defensive end. Either way, he'd have fewer opportunities to put quarterbacks on their butts as part of a three-man line, since the primary goal would be to tie up blockers so that the linebackers can grab the stats.
Whether Kennedy lands in Buffalo remains to be seen. Tim Graham of ESPN recently tweeted that Kennedy left town without signing a contract.
Maybe Kennedy realizes that, if he won't be a sure-fire starter in Buffalo, he's better off waiting for a shot in Minnesota — especially with Pat Williams inching toward 40 and both of the starters possibly facing a four-game suspension to start the 2010 season.