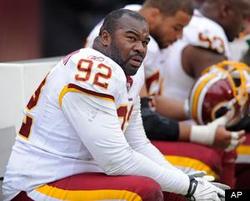 Despite speculation that Redskins defensive tackle Albert Haynesworth could skip the voluntary portion of the offseason program to voice his supposed displeasure with the shift from a 4-3 scheme to a 3-4 attack, Jason Reid of the Washington Post reports that Haynesworth will show up.
Reid cites multiple sources in support of the news that Haynesworth will indeed attend.
Defensive coordinator Jim Haslett reportedly plans to line Haynesworth up both at nose tackle and defensive end.
Coach Mike Shanahan recently said that he "wants [his] leaders" to participate, a statement that technically violates the rules of the offseason workout program. In past seasons, the NFLPA typically looked the other way regarding such comments; given the open hostility between the league and the union, there's a chance that such comments will be challenged moving forward.
If so, the union won't have to stray far from its D.C. headquarters to point the first finger.