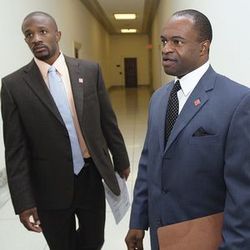 In a development that had not previously been reported and that possibly speaks to a disconnect between NFLPA President Kevin Mawae and Executive Director De Smith, Mawae was re-elected at the union's annual meeting in Hawaii in a vote that included a challenger.
Ravens cornerback Domonique Foxworth.
According to Liz Mullen of SportsBusiness Journal, Mawae's only challenger was Foxworth, who as we pointed out in June apparently is being groomed by Smith for bigger and better things.
Mawae told Mullen as to the outcome, "You don't change leaders in the middle of a war."
We disagree.  If you're losing the war, change is sometimes necessary.  And Foxworth presumably didn't decide on his own to challenge the status quo.  He undoubtedly counseled with Smith, who at most urged him to do it and who at least didn't discourage the move against Mawae.
In the end, Mawae was the unanimous winner.  But that only means (in our view) that a second vote was taken after the initial vote, in the hopes of creating for the benefit of the NFL and the rest of us a sense that the voters are all on the same page.
Even if they really aren't.
And so at a time when we wondered whether an anti-Smith coup could emerge in Maui, it looks like Smith might have tried to pull off a coup of his own.