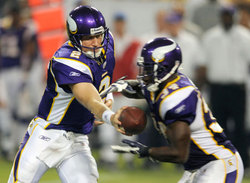 So with running back LaDainian Tomlinson spurning the Vikings and picking the Jets, who'll back up Adrian Peterson in Minnesota.
How about Albert Young?
You know, Albert Young.  An undrafted rookie in 2008 who played college football at Iowa, where he rushed for 3,173 yards and was named to the all-Big Ten team in 2007.  Young quietly had 12 carries for 53 yards last season, and coach Brad Childress sang his praises Friday in a segment on KFAN.
"Probably not enough has been said about Albert Young," Childress said, which is accurate because not anything has been said about him. "Albert Young is a guy that
has developed here tremendously in the last two years.  As a matter of
fact, Brett Favre and I had a long conversation about him when we were
down south, and he believes he's got a chance to be a good back in this
league."
The key words in that paragraph?  "Brett" and "Favre."  Chilly's recent visit to his quarterback wasn't just about seeing how Brett is doing.  It was about making sure Brett had no qualms about Chester Taylor being allowed to leave — and it was about making sure Brett would be fine with Albert Young being the No. 2 man on the totem pole behind Peterson.
It doesn't mean the Vikings will stand pat.  Though Childress says the Vikings aren't interested in Brian Westbrook, tailback is one of the most fungible positions in the game.  If a guy they like squirts through to round three or four of the draft, Chilly and company could pull the trigger on another rookie.
In the end, perhaps the best news for Vikings fans is that the ability of the team to become a finalist for LaDainian Tomlinson and a discussion between coach and quarterback about some guy named Albert Young means that all signs are pointing to Favre coming back for another year.