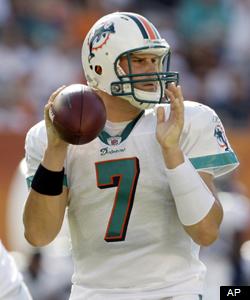 As Florida quarterback Tim Tebow continues to prepare for the NFL, one of the men who already holds a starting quarterback job at the highest level of the sport has a strong opinion on the subject.
"My judgment is that he's not an NFL quarterback," Henne told Curtis Stevenson and Anita Marks of WQAM in Miami regarding Tebow.  "I'll leave it at that."
Wow.
Making Henne's opinion more compelling is the fact that his position coach, David Lee, is one of the men who are helping Tebow become that which Lee's primary pupil says Tebow isn't.
And suddenly we hope Tebow lands in the AFC East.