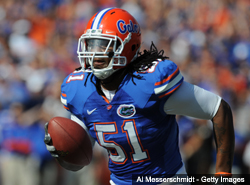 We've debated the importance of the main event in the Underwear Olympics plenty around here.
The forty-yard dash has an influence on draft stock, we know.  How much influence it has could be reflected in where Florida linebacker Brandon Spikes gets drafted.
Spikes was timed in the 5.0 range Wednesday at Florida's pro day.  (Some scouts had him in mid 4.9's, others had him higher than 5.)  That's extremely slow for an inside linebacker, even one that wasn't expected to run fast.
Spikes is known as an instinctive, tough player.  He's a classic inside linebacker for 3-4 teams, and there aren't a lot out there.
Before the forty time came out, the general consensus was that Spikes was roughly an early second round pick.  We've now heard he could slip as late as rounds 4-5. ESPN's Todd McShay said Thursday Spikes could still go in round two or three. 
A league source says Spikes met with Mike Tomlin and the Steelers staff Tuesday, and Bill Belichick Thursday, so the 3-4 teams are interested.
How interested they are and where Spikes is taken will be a telling litmus test for how teams really view the forty.