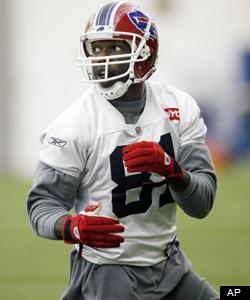 We've consistently heard that, when it comes to free-agent receiver Terrell Owens, he needs a sizable contract in order to feel that he's being treated fairly — even if only one team is interested in his services.
Four years ago, T.O. got 25 million reasons to live, even though the Cowboys were the only franchise willing to throw him a line. Last year, the Bills gave him another 6.5 million reasons, once again as the only team that wanted him.
John Czarnecki of FOX reports that Owens wants at least $5 million this time around, even though no one is banging on his door. We continue to hear rumblings indicating that the Bengals haven't ruled out signing Owens. The arrival of receiver Antonio Bryant complicates matters, however, due to a contract that averages $7 million per year. Owens surely will want at least that much in Cincinnati.
Czarnecki floats the Bears as a potential destination, given the desperation the team already has shown in throwing cash at Julius Peppers, Chester Taylor, and Brandon Manumaleuna.
We think that, unless someone steps up with big money before the draft, the market won't emerge until after the draft, if teams with needs at receiver aren't able to adequately address them.