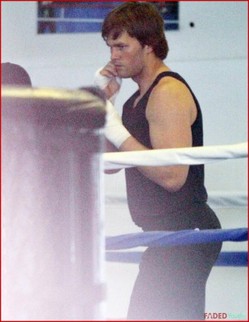 Nearly a decade removed from posing at the Scouting Combine for a photograph that conjured images of someone's dad heading to the bathroom to take a whiz after drinking too much schnapps the prior evening, new images have emerged, which show that Tom Brady is supplementing his training regimen with boxing.
The photos, from a blog of which we've never previously heard (it's called Faded Youth), supposedly were taken on Friday in Beverly Hills.
Brady did not appear for the first week of the Patriots' offseason workout program, which opened on Monday.
He is only 18 months removed from a serious knee injury, from which he has by all appearances completely recovered.