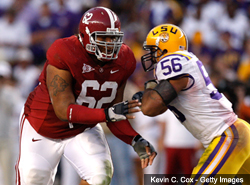 Almost half of the NFL now plays a 3-4 defense, which is good news for Alabama run-plugger Terrence "Mount" Cody.
Cody is scheduled to meet with the Ravens, Chargers, and Jets in the upcoming days, according to our buddy Aaron Wilson of the Carroll County Times. All three teams pick towards the end of the first round and could use a true 3-4 nose tackle. (In Baltimore's case, he'd be a backup.)
As this year's crop of franchise tags showed, nose tackle may be the toughest position to fill in football. The more we think about it, the more we wonder if Cody could sneak into the first round. (Well, as much as anyone that looks like this can sneak into anything.)
The drop-off behind Cody at nose tackle is big in this draft and Cody survived just fine at Alabama under a demanding, pro-style coach.
The simple logic of supply and demand should help Cody's stock, and may ultimately outweigh any concerns about his love for his mom's sweet potato pie.