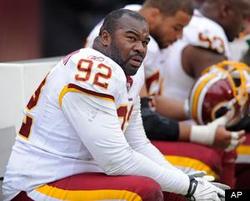 New Redskins coach Mike Shanahan said that he "wants [his] leaders" to participate in the offseason workout program. Though the question of whether defensive tackle Albert Haynesworth is among the team's "leaders" remains a subject for debate, Haynesworth showed up for the launch of the lifting-and-running exercise sessions on Monday.
But he hasn't been back.
According to our friends (and possibly future colleagues) at CSNWashington.com, Haynesworth appeared Monday for orientation, and then he failed to return.
Haynesworth reportedly isn't keen on the idea of a switch from a 4-3 defense to a 3-4 attack, in which he'd presumably be used at times as a nose tackle and at times as a defensive end. Given that he was a disappointment during his first season with the team, we wouldn't rule out a trade — assuming that the Redskins could find a team willing to assume the balance of his contract, which has as a practical matter three seasons remaining on it.
The absence of a salary cap permits the Redskins to trade or cut him with no consequence, other than eating the money he already has been paid and, in the event of a release, guaranteed cash that he'll be owed in the future.