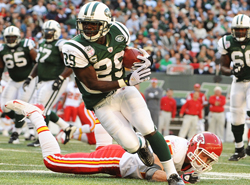 Rex Ryan's vision of the 2010 Jets backfield will be music to LaDainian Tomlinson's ears, and should be nails on a chalkboard for Jets fans.  And Leon Washington's agent.
"What we should do with [Washington], in my opinion, is put him back to
his role
which he had initially, which is third-down back, a change-of-pace type
back, and a Pro Bowl returner. And there's nothing wrong with that," Ryan said to Bob Glauber of Newsday Tuesday.
It makes sense to work Washington into the mix slowly, but he should be a
huge part of the offense again when healthy.  At least Tomlinson will be the clear backup to Shonn Greene, right?
"Hypothetically, we'd see [Tomlinson] carry the ball 15 times a game," Ryan said.  "We're just going to ground and pound away. I'm sure some games
he'll have more rushing attempts than Shonn Greene, and I think Shonn will have more than
L.T. in other games."
I don't even need go to the stats to explain why Greene should be getting a lot more touches than Tomlinson.  Go back and watch the Jets-Chargers playoff game.
Handing Tomlinson 15 carries a game at the expense of his younger teammates will be doing Jets opponents a favor.