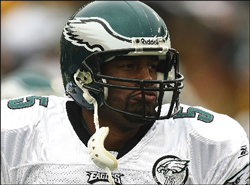 So we posted a little while ago an item generally addressing the possibility that the Eagles will trade Donovan McNabb, and we mentioned persistent rumors that McNabb could be sent to the Rams for the first pick in the second round of the 2010 draft.
And we pointed out that it appears that the rumors are just that — rumors — and that this probably means a deal gets done by the weekend.
Now, there's a report from Jeff McLane of the Philadelphia Inquirer that the Eagles "have an offer on the table" from the Rams for the No. 33 selection in the draft, in exchange for McNabb.  McLane writes that McNabb would be willing to go to St. Louis with a contract extension, and that a trade could happen quickly.
Meanwhile, a Rams source contends that there is "zero truth" to the reported interest in McNabb.  Per the source, "all focus" is on the available college quarterbacks.
UPDATE: O.J. Atogwe is involved in the reported Rams offer.