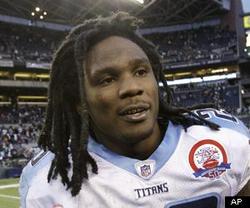 The folks at Electronic Arts held a contest this year to determine the identity of the next Madden video game cover athlete.
The finalists were Vikings defensive end Jared Allen, Colts receiver Reggie Wayne, and Saints quarterback Drew Brees.  (Voting ended March 15.)  But another guy who didn't make the final trio thinks he should be the player on the box.
Titans running back Chris Johnson.
"No one else deserve to be there but me," Johnson told NBC Sports Digital General Manager Rick Cordella at the Interactive Sports Conference in Las Vegas.  "I set the record." 
Johnson also said he thinks he eventually should get a big raise.  "I feel like I should be the highest paid offensive player," Johnson told Cordella.  "No one has done what I have done in the league in their first two seasons."  (So, basically, Johnson told "Rick" that the Titans should "pay me.")
Johnson also thinks that 2009 won't be the only time he rushes for more than 2,000 yards.  "I did it early in my career and can do it again," Johnson said.
And, of course, Johnson had a few things to say about his speed.  He thinks he should have a 100 speed rating in the Madden game, he ignores Maurice Jones-Drew's belief that he's faster than Johnson, and Johnson said he plans to race Usain Bolt in the 2011 offseason.  (Johnson's plan to race Bolt in 2010 possibly was derailed by the fact that Bolt apparently has never heard of him.)
Meanwhile, Johnson had a couple of predictions for 2010.  He thinks that quarterback Vince Young "can get us to the promised land." And Johnson offered up some advice to fantasy players. 
"You have to take me first in your draft or you are going to lose."