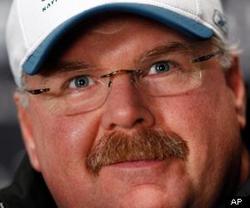 Late Wednesday afternoon, a bizarre and confusing series of reports emerged regarding whether the Eagles would be trading quarterback Donovan McNabb to the Rams for the first pick in the second round of the draft, which will be the first overall pick of the second day of the process. (Eventually, the report was amended to include Rams safety Oshiomogho Atogwe, a restricted free agent who could be traded once he signs his tender, just as defensive end Darryl Tapp was traded from Seattle to Philly last week, a day after signing his.)
But while the reports have been shot down conclusively, given the decision of Rams G.M. Billy Devaney to go on the record and call the report "utterly false" and "absolutely ridiculously," one thing is clear: Eagles coach Andy Reid covets the first pick in the second round.
In a series of questions and answers generated via an interview with Paul Domowitch of the Philadelphia Daily News, Reid gushed about the first pick in round two when asked generally for his thoughts on the new three-day draft format. "I'd love to have that first pick of the second day," Reid said. "Where you can sleep
on it, regather your thoughts, which you normally don't get to do. I
don't think [the new format] is a bad thing."
Here's what we said about that 33rd overall pick on Wednesday: "Now that the draft is spread out over three days, with the second round
starting on Friday after after the first round finishes on Thursday
night, the team that holds the first pick when the draft reconvenes
holds a lot of power. Players that other teams covet will have slipped
through round one, and there will be an extended time period for the
team that has the next pick to do a great deal."
So it's more than just having the ability to "sleep on it." The first pick of round two provides a wide variety of options, from taking the best player remaining on the board to trading down a few spots in the hopes of still getting the guy at the top of the board to trading even farther down if the price is right. The luxury of time, with far more than five minutes available to make the pick, makes the pick even more valuable because of the dramatically expanded opportunity to weigh offers.
Though it still appears that a deal between the Eagles and the Rams for the 33rd pick wasn't even remotely close, it sure sounds like Reid hopes that it happens, eventually if not sooner.