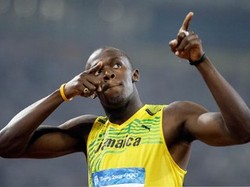 In response to Thursday's comments from Titans running back Chris Johnson regarding an ongoing desire to race record-setting sprinter Usain Bolt, a source with knowledge of the situation tells us that Bolt's representatives actively have been pushing the event.
Word of the race first emerged in early January, when ESPN's Adam Schefter reported that Bolt's people and Johnson's people were working toward setting up a race for charity.  (We suggest calling it the "Usain Bolt Chris Johnson Dunder Mifflin Sabre Scranton Meredith Palmer Memorial Celebrity Rabies Awareness Pro-Am Fun Run Race For the Cure.")  Within hours, however, Bolt's agent said "[t]here is no truth to the story," and that Bolt "doesn't follow the NFL too closely."
So it was odd that Johnson said Thursday that he plans to race Bolt next year.  But, apparently, talks indeed have occurred and continue to occur, notwithstanding the denials of Bolt's agent, whose word on the matter was accepted as Gospel truth, possibly because agents have an impeccable reputation for honesty.
Per our source, the two sides have not been able to agree on a distance.  Johnson presumably wants a shorter race, and Bolt wants a longer distance.  The folks at NBC Olympics previously have determined that Bolt's 40-yard split from his world-record time in the 100-meter dash during the 2008 Summer Games in Beijing was "a hair slower" than Johnson's 40-yard dash at the Scouting Combine.