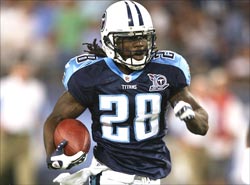 Titans running back Chris Johnson, a speedster who rushed for more than 2,000 yards in his second NFL season, recently said he thinks he should be the highest paid offensive player in the game.
So how does he get from a base salary of $550,000 in 2010 to Peyton Manning's $15.8 million? Given the rules of the uncapped year, it'd be easier to fit Manning's head through the eye of a needle.
Even with no salary cap, the 30 percent rule still applies. And it means that there's only one way to pay big money to Johnson — by giving him a huge signing bonus.
But such an approach would push bonus proration into future years, forcing the Titans to prepare to take large cap charges based on the money paid in the uncapped year to Johnson, in the event the salary cap returns. It also would mean that, three years from now, Johnson might forget the huge pile of money he received in 2010, and that he possibly will want more.
Regardless of the practical impediments, we're told that the situation soon will become a problem. Given that Johnson was picked 24th overall in 2008, his slot kept him at a relatively low financial package, even with incentives and escalators. He'll earn far less, for example, than Vikings running back Adrian Peterson, the seventh pick in 2007, who will have made many extra millions based on his performance through three seasons.
And Johnson surely won't want to hear about the 30 percent rule or other hurdles. He believes that he's due a significant increase, and our guess is that he doesn't care how it happens, or why it won't be easy to do it.