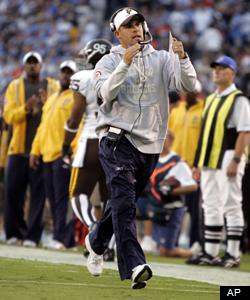 The Denver Post takes a close look at second-year coach Josh McDaniels, the former Patriots offensive coordinator who arrived with much fanfare in 2009, and who then took the locals on a roller-coaster ride that ultimately ended in failure.
And here's a nugget from Mike Klis that won't make Broncos fans feel much better about their Boy Wonder.  During McDaniels' first year as de facto offensive coordinator with the Patriots, McDaniels and quarterback Tom Brady once went three weeks without talking to each other.
Head coach Bill Belichick did a great job of keeping the spat under wraps, but the notion of player and coach not communicating for such a long stretch suggests that one of the two men has a personality flaw, or two.  The fact that McDaniels has had public issues with multiple players in Denver suggests that McDaniels, not Brady, was the problem.
So what's wrong with this picture?  Boomer Esiason of CBS tells Klis that McDaniels is trying to behave like Belichick before earning the ability to do so.  "All these [coaches] are taking what Bill did
in New England and trying to bring that with them wherever they go,"
Esiason said.  "The one thing they're missing, though, is the credibility
Bill Belichick has.  The Super Bowl rings lead the players to believe
he's leading them to victory."
Initially, it looked like McDaniels would be able to make the transition easily, as he led the team to six victories to start the season.  But a 2-8 mark down the stretch has prompted folks to look more critically at McDaniels — and it has many wondering whether the head coach will be inching toward the hot seat come 2010.