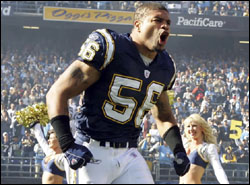 Recently, former wrestling star Goldberg said he could be returning to the WWE — and that if he does his tag-team partner will be Chargers linebacker Shawne Merriman.
The suggestion didn't sound quite so foolish on the surface, given that Merriman is a restricted free agent with five years of service, that he's not happy with the CBA quirk that has kept him from becoming an unrestricted free agent, that he could in theory take a year off and return as an unrestricted free agent in 2011, if the rules reduce the eligibility to five years or fewer, and that he seems to be just enough of a free spirit to do it.
Alas, a source with knowledge of the situation tells us that Merriman will not be taking a year off and entering the squared circle.
"He might enjoy the attention," the source said, "but he will play [football] somewhere in 2010."
Also, teammate Quentin Jammer recently told XX 1090 in San Diego that the suggestion that Merriman would give up football for wrestling is "hogwash." Said Jammer, "I know 'Lights,' and 'Lights' is all about football."