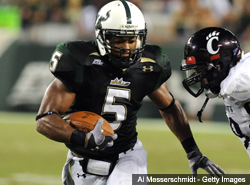 The Bears don't have a pick in the first two rounds of this year's draft, but Brad Biggs of the Chicago Tribune passes along buzz that the team could trade up for safety help.
Lovie Smith recently visit South Florida safety Nate Allen's Pro Day, and Biggs writes Smith doesn't hit the road looking at prospects just for the sake of a smokescreen.
Many draft analysts think Allen could go in the first round. There's almost no chance he will be available when the Bears pick in the third roun.
Trading up for a safety would qualify as the ultimate need-based desperation move. The Bears would likely have to mortgage away a pick next year to acquire what should be a cheap position to fill.
Then again, Smith and G.M. Jerry Angelo's moves this offseason don't exactly indicate they are looking far past 2010.