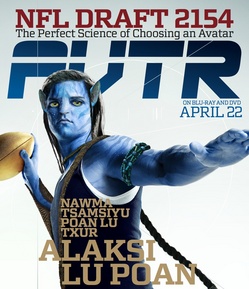 Despite the consistent criticism that has been directed at Notre Dame quarterback Jimmy Clausen by draftnik Todd McShay, someone at ESPN thinks sufficiently highly of Clausen to believe that he can sell magazines.
And DVDs.
Clausen appears on the front cover of ESPN The Magazine's 2010 draft preview issue as himself.  Clausen also appears on the back cover with blue skin, long hair, and tail, as part of a promotion for the home release of Avatar, the best-picture nominee that was, in our view, far better than The Hurt Locker, which won the life-size sculpture of Jay Glazer, sans goatee.
The article on Clausen is revealing as well, explaining how as a fifth-grader he could throw the ball 55 yards, thanks to a throwing motion that traced to older brothers who played quarterback and time spent firing a baseball as a catcher. 
The Avatar version of Clausen could likely fling the pigskin even harder.  If it didn't eat the thing first.