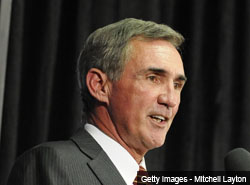 A large contingent of Eagles fans have waited for Donovan McNabb to be traded for years.
Now that the day has arrived, many of those same fans are convinced that trading McNabb within the NFC East will come back to haunt the franchise.
So McNabb wasn't good enough for a primed young offense, but he can resurrect a 4-12 team with a terrible offensive line?
There are three major advantages to Washington for McNabb. One is the contract he will probably sign. The other two share a last name: Shanahan.
After that, the Redskins are a major downgrade.
Mike and Kyle Shanahan know how to maximize a mobile quarterback, but McNabb is going to have to adjust to a new team and system for the first time in his career. (Yes, we're aware the schemes won't be too different.)
Washington's wide receivers are below average as a whole. The running backs were awesome in 2006. Most importantly, Washington's offensive line is porous.
(McNabb's back-to-back weak efforts against the Cowboys shows what happens when he gets no protection. Like any quarterback.)
Mike Shanahan can coach up his team, but how quick will the transition be? McNabb only has so many prime years left, and the Eagles think his prime is over.
Make no mistake: This is a win-now move by the Redskins. The bar is raised. Anything less than a playoff appearance would be a disappointment. We trust Shanahan and G.M. Bruce Allen far more than Vinny Cerrato, but ignoring the future in an effort to win now is a recurring theme in Washington.
That approach hasn't resulted in a lot of winning.