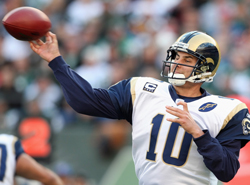 'Tis the season for unloading expensive veteran quarterbacks.
The Rams announced the release of quarterback Marc Bulger Monday on his 33rd birthday, ending an eight-year run with the team that began brilliantly but fell apart the last three seasons.
The decline of the Rams' franchise can be traced in Bulger's W/L loss record. His first three years he went 26-10 in starts. His last three years: 5-32.
Bulger was scheduled to make $8.5 million in 2010 and was never expected to remain with the team. We're trying to figure out why they dumped him now instead of one week ago or after the draft. (UPDATE: Duh. Mort writes that Bulger was on Washington's radar and his presence kept St. Louis' options for trading down open.)
Arizona was believed to have interest in Bulger previously, but appear fully stocked at quarterback now. Chicago makes a lot of sense as a destination.