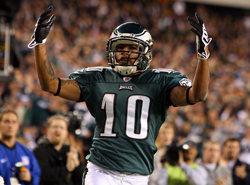 Eagles receiver DeSean Jackson, speaking again regarding the trade that sent quarterback Donovan McNabb to Washington, denies that he led a group of young players who wanted to see the team turn the offense over to Kevin Kolb.
"I don't know why anybody would say that," Jackson said, per Jeff McLane of the Philadelphia Inquirer.  "Whatever the case was, if McNabb would have stayed another year . . . that's not my decision."
But Jackson admitted his initial reaction upon hearing the news was relief.  "My first thought was — not to say, 'About time' — but just sitting
around with just the rumors . . . it was just kind of tough for the team.  Not knowing who was going to be here and who was going
to stay.  It's almost kind of a relief to know what we have here and just
to go forward."
Jackson also referred to the new-look Eagles as the "young guns," an interesting choice of words given that McNabb said after a 24-0 loss to the Cowboys in the regular-season finale that the team "showed our youth."  Though McNabb promptly backtracked, Jackson seemed to give credence to the notion that McNabb's comments created a problem. 
"We talked and, you know, it's nothing big," Jackson said.  "We've just
gotta keep it in house and stick together as a team and don't let things
like that break us up."
Meanwhile, another comment from the aftermath of that loss to the Cowboys was right on the money. 
"We can't get embarrassed like that again on Saturday night," an unnamed
veteran player told ESPN's Sal Paolantonio in advance of the wild-card game against the Cowboys, "or a lot of guys will lose
their job." 
The Eagles got embarrassed again — and to date a lot of guys have indeed lost their jobs.
Including McNabb.