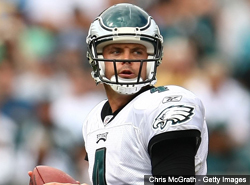 Jason Cole of Yahoo! Sports recently reported that Eagles quarterback Kevin Kolb was quietly making it known that he wouldn't sign a long-term extension with the team if he wasn't the starter in 2010.
Here's the reality — it will be difficult if not impossible for the Eagles and Kolb to work out a market-value deal, given the application of the 30 percent rule, which limits the growth of renegotiated contracts in the uncapped year.
A league source with knowledge of the challenges that will be faced in extending deals for the likes of Kolb and Titans running back Chris Johnson explained the situation to us earlier today. The low base salaries paid to players drafted late in round one (like Johnson) or early in round two (like Kolb) present an enormous obstacle to a renegotiated contract.
There's an exception to the 30 percent rule; signing bonuses don't apply. Fully funding a long-term deal via a combination of signing bonus and base salaries limited by the 30 percent rule, however, requires the team to pay a huge chunk of money up front.
"The only way a big, long-term deal can get done is with an enormous signing bonus in the range of $60 million," the source said. "What team is going to do that?"
For Kolb, the reality is that he'll play out the 2010 season, and we'll hear from plenty of writers and broadcasters how the man succeeding Donovan McNabb is making only 4.9 percent of the money that McNabb would have earned this year in Philly. The truth is that the labor deal prevents a new contract from being negotiated before 2011.
So what if Kolb chooses to walk after 2010? Though the rules applicable in 2011 aren't yet known, the Eagles undoubtedly will be able to restrict Kolb in some fashion. Then, the two sides can work out a fair and appropriate long-term deal.
Until then, Kolb bears the risk of a major injury that could make the Eagles (and any other team) unwilling to pay him big money.
Then again, the Eagles bear the risk of Kolb becoming a star in 2010, driving his leverage through the roof. But if that happens, we have a feeling the Eagles won't complain.
UPDATE: We're now hearing that a short-term fix could be in the works, aimed at increasing Kolb's 2010 pay from $550,000.