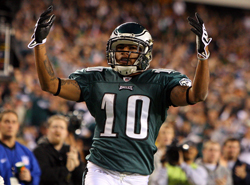 In comments to newspaper reporters Wednesday, Eagles receiver DeSean Jackson tried to say the right things about Donovan McNabb's depature.
He seemed less concerned with politics on 97.5 in Philadelphia, a radio station that pays him for a show during the season. (Such arrangements are the norm with major players.)
"It was time for a change," said Jackson, according to the Philadelphia Daily News.
"We've got some young players here.  I'm just excited about everything."
Jackson's radio buddies gave him a chance to retract the words.  He didn't back down.
"At the end of the day, I'm not the owner," Jackson said.  "Obviously, that's not just my opinion.  [But] I'm not going to get
caught up in saying . . . whatever."
Were Jackson's transparent feelings a major factor in the deal?  We highly doubt it.  But the Eagles wanted their young skill players to develop as one.  It looks like Jackson felt the same way, and that couldn't happen with Kevin Kolb on the bench.