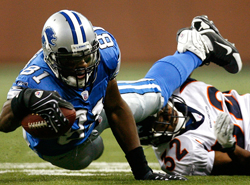 Chris Johnson is skipping Tennessee's offseason conditioning program, just like he did last year. "Every Coach's Dream" has made rumblings of wanting a new contract, but coach Jeff Fisher doesn't sound worried about Johnson holding out of mandatory activities.
"I think after a couple of more weeks he'll start missing us," Fisher told Jim Wyatt of the Tennessean. "Plus, Chris is under contract."
The "30% rule" and Johnson's status as a third-year player make a contract extension hugely unlikely, if not impossible. It will be telling if Johnson shows up for Tennessee's first organized team activities, which are voluntary practices.