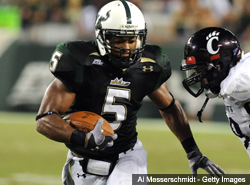 No one expects South Florida safety Nate Allen to fall far into the second round, and many think he'll go in the first 32 picks.
The Bears don't pick until No. 75, which is why we noted the Bears' interest in him last week, and why we're following up with the news Smith had breakfast with the kid before Allen's Pro Day workout, according to the Chicago Tribune.
Chicago would have to make a significant trade up for a chance to nab Allen, which would go against G.M. Jerry Angelo's track record. 
In this desperate all-in year for the Bears, track records don't seem to matter anymore.