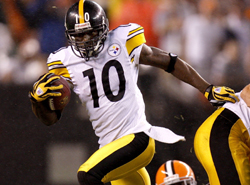 Santonio Holmes' lawyer Adam Swickle has conducted his own investigation into the accusations against his client, and thinks Holmes will be cleared of wrongdoing soon.
"We have sent certain information to the detectives that we believe is
going to result in proof positive that Santonio Holmes did absolutely
nothing wrong that night," Swickle told the Pittsburgh Tribune-Review. "I don't think you can have any
better evidence than what we just sent."
It's Swickle's job to say things like this.  But the police report written on the night of the incident creates some obstacles for the alleged victim. 
Anshonae Mills, 21, originally declined to press charges against Holmes, but the case was re-opened when she changed her mind. Swickle expects Mills to drop her civil suit and says her lawyers took the case for publicity.
"This is nothing more than frivolous and extortion and we believe we are
going to show that," Swickle said.