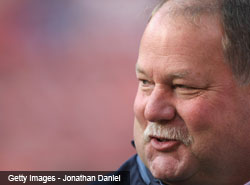 Generally speaking, we like the direction in which the Browns are heading.  But we've noticed that the new poobah's legendary locker-room impatience could be infecting his approach to team management.
To put it bluntly, Mike Holmgren seems to be a little impulsive. 
He basically gave Brady Quinn away to the Broncos, even though a more deliberate approach could have resulted in a bigger trade package if, for example, a team needing a quarterback didn't get the player it wanted in the draft.  More importantly, Holmgren opted to execute a plan that included trading for a career clipboard-holder (Seneca Wallace) and paying like a starter a guy who should be holding a clipboard (Jake Delhomme), instead of waiting to see whether the Eagles would reduce their asking price for Donovan McNabb.
So why did Holmgren move so quickly for Wallace?  "To take some of the pressure off immediately," Holmgren told Tony Grossi of the Cleveland Plain Dealer.  The Browns then paid Delhomme $7 million guaranteed for 2010, which arguably brought the pressure right back.
"I'm not a big one at looking back," Holmgren said.  "We did the [deal with
Delhomme].  I'm pumped up.  I really think this guy is going to bring
something for a couple years and hopefully during that process we can
find the next guy."
It's hard to argue that McNabb wouldn't have been a better option.  And the Redskins got McNabb for the 37th overall pick, along with a fourth-round selection in 2011 that could escalate to a third-rounder.  The Browns hold the 38th pick; surely, the Eagles would have accepted that pick if it meant sending McNabb out of the division.
Holmgren definitely disagrees with Philly's approach.
"Just as a general rule, I don't think it's ever a good deal to trade
[with a division rival]," Holmgren said.  "Clearly, Andy [Reid] has such a great
relationship with Donovan that it seemed to me that he did that because
he cares for the kid and he wanted to do something for him.  Now, Andy's
nicer than I am."
Andy might be nicer than his mentor.  But Andy also is more patient.  When it comes to building a football team, patience could very well be the most important attribute an executive can possess.
In this specific case, patience likely would have resulted in a trade for McNabb, a move that would have been met with as much local euphoria as Holmgren experienced 17 years ago, when his Packers acquired a big-name player from the Eagles who eventually helped bring a championship to Titletown.