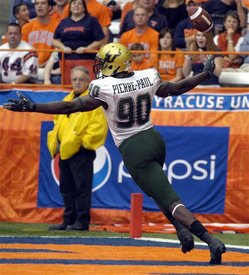 Regarded as a freakish athlete with unlimited potential, there are concerns in league circles that defensive end Jason Pierre-Paul might not be ready for the NFL.
We're told that multiple teams have concerns regarding Pierre-Paul based on his interviews, which have featured at times nonsensical answers to fairly basic questions.
Still, he made a huge splash in only one year of major college football, racking up 6.5 sacks in only seven starts. Along the way, he has soared past teammate George Selvie, who is regarded as an average prospect only two years after dominating the Big East with 14.5 sacks.
Silva has pegged Pierre-Paul as the No. 2 prospect at his position, behind Georgia Tech's Derrick Morgan. Others have Pierre-Paul at the top of the heap, projecting that he'll be a top-ten pick.
Even if he's not ready to contribute at the NFL level as a rookie, his long-term potential likely makes him worthy of a selection in the top 20 picks.