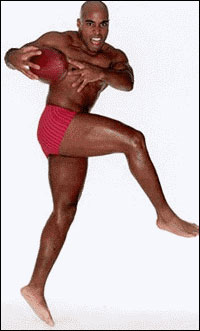 On Wednesday, we pointed out that former NFL running back Tiki Barber left his eight-months-pregnant-with-twins wife for a former NBC intern.
The New York Post, which broke the story, has pushed the ball forward with allegations that Barber started the relationship with 23-year-old Traci Lynn Johnson while she was a college student at Mount St. Mary. The Post quotes unnamed sources who claim that Barber sent Johnson 21-dozen roses on her 21st birthday, and that he gave her a diamond and sapphire bracelet. A source also tells the Post that Barber once spent the night in Johnson's dorm room.
The Post cites a source close to Barber who denies that Barber and Johnson were ever more than friends.
The new Post article also cites a source who claims that Johnson once babysat Barber's kids, and that he helped Johnson get her internship at NBC.
In a separate article, the Post reported that Barber attempted in 2009 to land a position with FOX News Channel's Fox & Friends. Per the report, FNC had no interest in hiring Barber, who worked as a contributor to the show from 2005 to 2007 before landing at NBC. (If only Tiki had gotten the job, he might have been on the set when Ernest Borgnine was giving out the secrets of long life.)
As we mentioned Wednesday, Barber won't return to NBC's Football Night in America in 2010. He remains a contributor to Today.