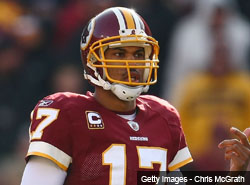 So far, we don't have a lot of meat to chew on regarding possible Jason Campbell trade destinations. The process could take a while, but Campbell will hope to speed it up by signing his restricted free agent tender by Monday at the latest, according to the Washington Post.
The Redskins want to trade Campbell, but it won't be for a first-round pick, which is what he would cost if he signed an offer sheet elsewhere.
The draft sets up as a logical time for Campbell's market to heat up. He would be a valuable addition to a few teams out there, so it makes too much sense for a trade not to happen.