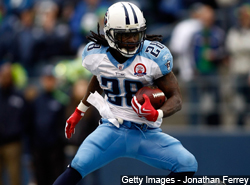 In late March, we pointed out that Chris Johnson's contract could soon become a problem. "Soon" could be sooner than anyone in Tennessee realizes.
With Johnson boycotting offseason workouts and Titans coach Jeff Fisher shrugging at the possibility that the 2009 AP offensive player of the year's absence will become protracted, we're hearing that Johnson could be preparing to make a stand.
As the 24th pick in the 2008 draft, Johnson signed a slotted deal worth $12 million over five years. He already thinks he should be the highest-paid offensive player in the league.
He isn't; he's not even close. He'll earn a base salary of $550,000 in 2010. Colts quarterback Peyton Manning will earn $3.8 million more this season than Johnson will make under his entire rookie deal.
The Titans easily can respond to a request for a new deal by pointing to the 30 percent rule, which as we've recently explained makes it very difficult to do a market-value extension in the uncapped year — unless the team wants to fork over a gigantic signing bonus. And while we believe when it comes to a veteran deal that the player should honor the terms of his contract, the current slotting system fails to reward a rookie who outperforms his draft position.
Regardless of whether Johnson chooses to hold out of training camp (and the grapevine suggests that he very possibly could), any forthcoming tweaking to the rookie compensation system not only should remove the windfalls paid to the men taken at the top but also should ensure that the players who become stars are paid accordingly.
Of course, none of that will help Johnson. And his desire to get paid in a manner reflecting his abilities could quickly become one of the dominant story lines of the 2010 offseason.