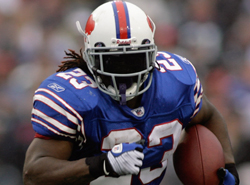 The mystery Pro Bowl running back on the trade block we mentioned a few days back is indeed Marshawn Lynch.   But he won't come cheaply.
Charles Robinson of Yahoo! Sports reports that the Bills "would be open to moving [Lynch] if a package included a second-round pick."
(I'd like $1 million for writing this post, and may have a better shot at getting my price. )
There's no chance anyone would give up that high a pick for someone with Lynch's off-field baggage and salary, unless they were getting something like a third-round pick back.
Robinson notes that the Seahawks have had "internal discussions" about Lynch, but it's unclear how serious their interest is.  The Bills and Seahawks have not yet talked, but the trade would make sense if Seattle passes on C.J. Spiller and Ryan Matthews in round one.
If the Bills are stuck on wanting a second-rounder for Lynch, they are misjudging his value or they aren't really that interested in moving him.