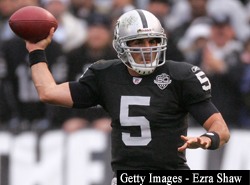 So why did the Raiders sign quarterback Kyle Boller on Thursday?  Though they possibly were considering the move anyway, a specific need arose on Wednesday, when (per a league source) quarterback Bruce Gradkowski tore a pectoral muscle while lifting weights.
Gradkowski was bench pressing when the injury occurred.  He'll have surgery on Friday.
According to the source, Gradkowski is expected to resume throwing in four weeks, and he'll be ready for training camp.  Though he'll be practicing on a non-contact basis for those two weeks, quarterbacks typically practice on a non-contact basis.
Gradkowski and JaMarcus Russell will compete for the starting job.  Last year, he performed capably in place of Russell, putting together a game for the ages in his hometown of Pittsburgh, with three touchdown passes and a 121.8 passer rating in a 27-24 win.
UPDATE:  Agent Ralph Cindrich confirms the injury, and says that it was to the left (non-throwing) side of his body.