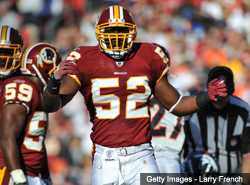 This is shaping up to be transformational week for the Redskins.
We knew Albert Haynesworth and Jason Campbell were available in trades, and now it sounds like Rocky McIntosh can be added to the mix.
Jason Reid of the Washington Post talked to McIntosh, who has decided to skip this weekend's minicamp.  Asked if he asked for a trade, McIntosh laughed and said, "Ah, that's between me and them."
The weak-side linebacker also said he hoped his situation was "resolved" soon. 
McIntoshed seemed to doubt that he could get the contract extension he wants in Washington.  (That makes sense; he's not a great fit for a 3-4 defense.)
We'll find out soon enough if another team is more generous.