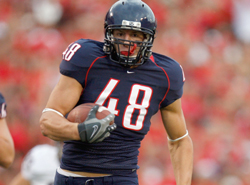 In response to our blurb from earlier in the day regarding the disputed status of tight end Rob Gronkowski's back, we've heard from multiple league sources regarding the opinions that currently are floating around.
For starters, the notion that Gronkowski "passed his physical" at the Scouting Combine misses the mark. There's no pass/fail. Teams rate injury concerns on a scale.
We're told that the original back injury occurred while Gronkowski was lifting weights. It was bad enough to require surgery and knock him out for the entire season.
One team has him rated as potentially having a shortened career. Another team says there's no issue. "He had surgery to repair a problem," the latter source said. "It was repaired and he is ready to play. Only a team that wants him to drop would put out anything negative about the kid."
The point here is that every team will have its own opinion, and there's no right or wrong answer. Eventually, the matter will be resolved via hindsight, based on whether and to what extent Gronkowski is able to play pro football.