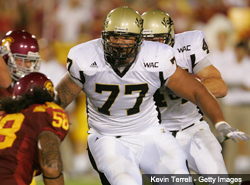 It's widely assumed that four tackles will fly off the board on Thursday night.  In alphabetical order (which should help us avoid a couple of e-mails from folks complaining about the manner in which their clients were listed), they are Bryan Bulaga, Anthony Davis, Russell Okung, and Trent Williams.
There's a chance that the top interior offensive lineman could be taken before each member of that quartet is picked.
Guard Michael Iupati, like Branden Albert two years ago, could be moved to the outside at the next level.  Per a league source, Iupati has taken 10 pre-draft visits.  At the Scouting Combine, 22 of 32 teams interviewed him.
He has visited the Steelers, Dolphins, Chiefs, Cowboys, Buccaneers, Bengals, Vikings, Browns, Lions, and 49ers.  Though not much usually can be read into pre-draft visits (but for the fact that teams like the Bengals almost always draft from the list of players who have come to town), the sheer volume of visits suggests a high degree of interest.
Iupati also has been worked out privately by the Browns, Eagles, and Jaguars.  Teams rumored to be interested but trying to hide it are the Broncos, Raiders, and Giants.
It's a given that he'll be picked on Thursday night.  The real question is whether he'll go in the top half — and whether he may even go in the top ten.