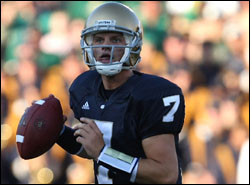 Mel Kiper has Jimmy Clausen as the top quarterback in this draft, while Todd McShay's Scouts Inc. has Clausen ranked 38th, 35 spots below Sam Bradford.
That disparity has raised questions about the relationship each draftnik has with the agents for the quarterbacks.  McShay is believed to be represented by CAA, which also represents Bradford.
Kiper denies that he shows any favoritism to Clausen's agent Gary Wichard, a long-time friend.
"I have so many friends who are agents: Tom Condon, Joel Segal, Tony
Agnone, Gary Wichard," Kiper told Rick Maese of the Washington Post.  "Ask them how many battles we've had on the phone
over players that they've represented. I don't shill for
anybody."
Some have said Wichard represents Kiper, but that has been denied.  Kiper points to the criticism he's made of Wichard clients, including Taylor Mays and Dwight Freeney.
Maese's excellent profile is worth a complete read.  McShay calls Kiper an "institution."   Love or hate Kiper, McShay is right here.
Even though Kiper's preeminence has been challenged in recent years, Kiper's spot at the big boy table during the draft remains secure.  He's the one who will sit on ESPN's main site throughout the draft, while McShay does a lot of his work from Bristol.