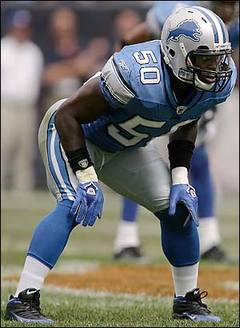 As yet another first-round pick from the failed Matt Millen regime in Detroit becomes a former member of the team, who better to explain what happened with linebacker Ernie Sims than, well, Matt Millen?
In an interview with 97.3 FM in Atlantic City, Millen told Mike Gill of The Sportsbash that Sims simply doesn't fit the new defense that's being implemented in Detroit.
As Millen explains it, Sims was drafted to play weakside linebacker in the Tampa Two/Cover Two defense, which is premised on speed and athleticism.  Under coach Jim Schwartz, larger linebackers are required.
Millen also suggested that the Eagles got a steal, given that they got the ninth pick in the 2006 draft for only a fifth-round selection.
"The problem is when you change the defense, sometimes guys fit, [and] sometimes they don't fit," Millen said.
Still, the Lions got tight end Tony Scheffler and a seventh-round pick for Sims.  If anyone got screwed here, it was Denver, who got a two-round upgrade (from seven to five) for a guy who was a second-round pick four years ago.