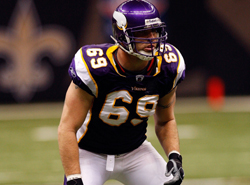 We've taken very seriously the debate that emerged last week regarding whether it was appropriate for someone to tape the candid remarks of Cowboys owner Jerry Jones and then upload them to the Internet. Though some made good points in support of a decision not to post the video (or, once posted, to publicize it), we continue to believe that, in this age of information, public figures in inherently public settings speak and/or act at their own peril.
In 1984, George Orwell envisioned a future in which Big Brother would be monitoring our every move. Little did he know that Big Brother would not be the government, but a populace armed individually with a device for instantaneously recording video and audio. Folks who "get it" factor this reality into everything they say and do.
So even though Jones wasn't speaking at a press conference or in an "on-the-record" interview, he had left the privacy of his home and/or place of business, and he was speaking to strangers. Whether they had repeated what he said or obtained more reliable evidence of it, we think that, in this day and age, it's fair game.
Applying that same standard, it's also fair game to point out that TMZ has video evidence of Vikings defensive end Jared Allen going bonkos at a Scottsdale, Arizona bar. "I'll break your f–king neck, pretty boy," Allen says, "and then I'll write a f–king check to your name, too."
Apparently, the man to whom Allen's venom was directed had had hurled an offensive four-letter word at Allen's girlfriend.
Allen's representative at EAG Sports Management reportedly said in the aftermath of the incident, "No matter what, Jared will always protect and defend his family."
That's fine, but in this era of heightened sensitivity to the stuff that happens in public (including but not limited to the Rex Ryan middle finger fiasco from late January), guys who may have short fuses need to be even more careful when out in public.