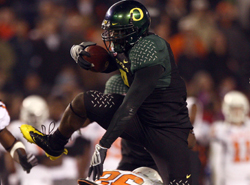 The benefit of going undrafted is that you can choose your team. Oregon running back LeGarrette Blount appears to have chosen well.
The controversial runner will be a San Francisco 49er, according to the Sacramento Bee.  He joins sixth-round pick Anthony Dixon and Glen Coffee as possible backups to Frank Gore.  Michael Robinson is also there, and we could see the 49ers carrying four tailbacks.  Compared to most NFL rosters, Blount has a good chance to stick in San Francisco.
The 49ers also agreed to terms with West Virginia quarterback Jarrett Brown, according to Matt Maiocco of the Santa Rosa Press Democrat.  Brown is developmental prospect, but has a huge arm and good mobility.  He could be ticketed for the 49ers practice squad as a fourth quarterback.
San Francisco also agreed to terms with Florida A&M return man LeRoy Vann.